I help dentists develop and master all the skills we weren't taught in dental school!
Chicago Dental Consultant and Executive Business Coach
Business skills, leadership skills, and communication skills are vitally important if you want to have a successful practice. This is true, more than ever, in today's rapidly changing environment!
Whether they realize this or not, Dentists are the CEOs of their dental practices.
I coach dentists to think, train, and function like successful CEOs so their practices can run efficiently, productively and profitably. This allows our dentists to focus on doing what they love and know best: delivering excellent dental care to their patients!
What exactly is an executive coach, and why would I need one?
Dental Consultant in Chicago IL
I've found that people are really asking, "What's the difference between a coach and a consultant?  Why would I need any help?"
A Fortune Management Dental Coach wears three different hats:
Executive Coach
Key Business Strategist
Practice Management Specialist
A consultant tends to focus solely on the last category:  Practice Management.  Both consultants and coaches are adept at helping a dental practice:
Implement reliable systems
Build a consistent and profitable schedule
Improve A/R
Present treatment in a way that improves case acceptance
Increase patient referrals
Attract new patients
Grow the bottom line
…just to name a few areas.
Unlock the keys to running your dental practice effectively.
Dental Consultant Chicago
Many practice management gurus like Peter Drucker, Clayton Christensen, John Kotter, Tom Peters, and many others, advocate that a strong office culture is VITAL if you want to have a successful business! 
Success means many different things to many different people.  If you want to:
Make more money
Enjoy your profession more
Have a better work-life balance
Enjoy your whole life more…
Call me today!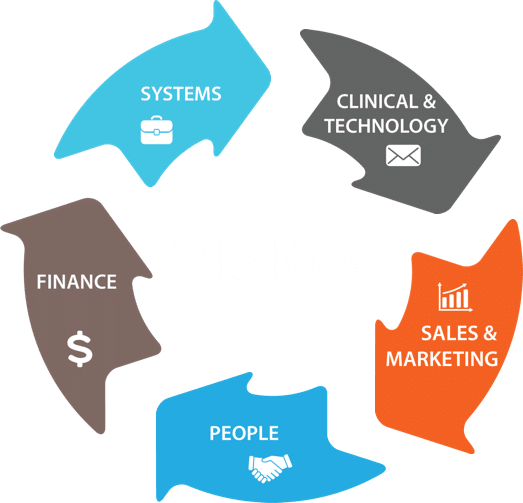 What Are the 5 Business Engines?
A high-performance automobile engine needs its pistons, cylinders, gears, valves and spark plugs to work together seamlessly. A successful dental practice needs its financial, systems, people, sales & marketing and clinical systems to work at 100% capacity. If just one of those systems is struggling, the entire practice struggles.